The Vigilante Band: 1975-2015 And Still Kickin' (It)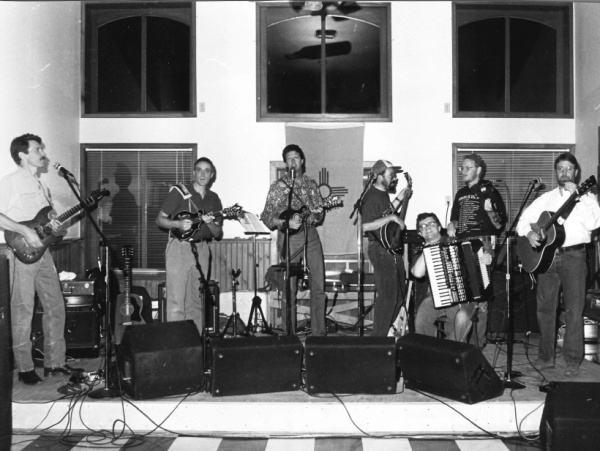 The Lads at the Capitol Bar, sometime in the 90's? L-R Bill Giebitz, Randy Hanson, Bo Putnam, DT, Booty King, Barry Hembree and Denby Auble. Note the huge old-school array of monitors.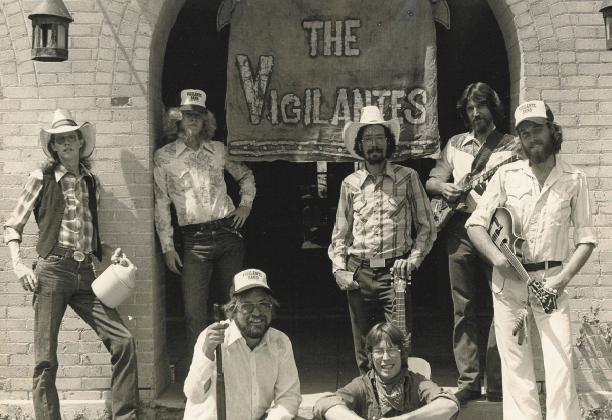 The Vigilante Band circa 1979: Clockwise from left, Bo, Barry, DT, Bill, Randy, Denby and Steve. Photo copyright Steve Williams.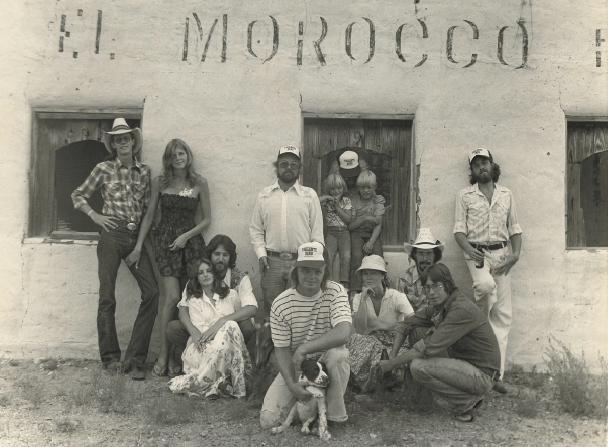 The Vigilante Band, circa 1979: From left: Bo and his ex, Ann; Bill and his ex, Jenny; Steve (standing); Charles and dog; Barry with Charles' kids Debbie and Cinco; DT (cowboy hat); Denby and his ex, Cherie; and Randy and his soon-to-be-ex Brewski. Photo copyright Steve Williams.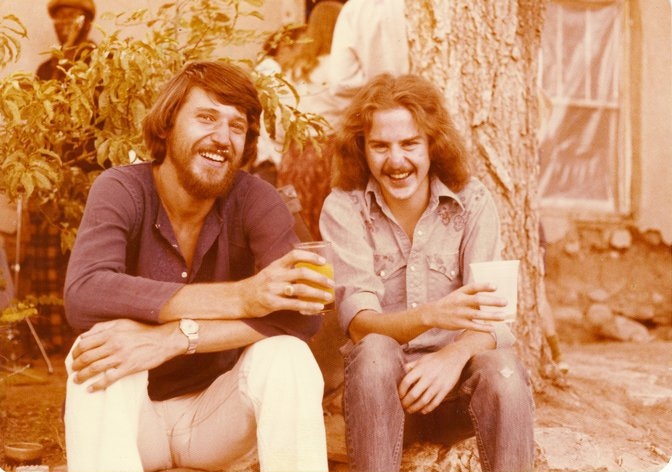 Bill Giebitz and Ed Brandt

Socorro Air Shows - with Vigilante Band Sound Track!
THE VIGILANTE BAND
1997 CD LINER NOTES: The Vigilante Band took form "unplugged" during August 1975 one sunny afternoon in Socorro, New Mexico, when a group of otherwise unassociated musicians gathered at RTH's house on 6th Street, and played a few songs over-and-over-and-over, shirts off, before the sun went down and the sweat-house started. The gathering was many and diverse in number, but soon the group was thinned-out into a 'workable harmony' form. Largely, the Vigilante Band, and it's name, was the dream of Ed Brandt, banjo player. Ed, our then lead singer and protagonist, taught us to harmonize better, listen to each other and to our dynamics, and generally pushed and pushed us to demand more or ourselves musically. Over the first two-years, there was no gigging, only endless hours of seemingly direction-less practice, night-after-night at either Ed's house, Bub's, the Giebitz' or the Music Room at Tech.
The band was really bad then, but we worked hard on our song list, which is still with us today. The first real public 'gig' was in the "Ore House", the old basement hangout beneath Driscoll where Tech really found and kept its personality. This gig was fully acoustic, and although we could barely be heard, there was much dancing. We then were graduated upstairs to the living room at Driscoll, which most really remember as our first gig with a sound system. But the real break came at the Roadrunner Lounge, Socorro, on October 20th, 1978, where we (and many of you) held on for four sets (the last was pretty ugly...). Our sound system was maxed-out and barely audible, but, you danced anyway and it furthered the dream.
Two months after the Roadrunner gig, a difficult set-back hit the band when the lifelong troubling congenital heart and lung defects took away our protagonist, banjo player and friend, Ed Brandt, at age 28. Prior to Ed's death, we'd begun to work around his increasing absences, with Ed encouraging others to learn his lead vocal parts and to fill-in for his instrumental 'breaks'. But we were never really ready. The band began to drift, but, with the Roadrunner Marquee bearing the old "Dance Sat - Vigilante Band" for nearly a year, it reminded us how far we had come, and why. We were then swept into the care of Chuck Mandeville, who at the time was refurbishing the historic Val Verde hotel in Socorro. The empty dining room there became our new home, where we re-grouped and pushed ourselves harder, and Chuck helped us break into the Albuquerque/Santa Fe music scene. It was nothing too big, but it was one of our milestones. By then, the band had been joined by Denby on vocals and acoustic rhythm guitar, Barry on fiddle, Chuck became defacto manager and helped as live sound engineer, and Bub emerged as the new lead singer and protagonist (they are somehow linked).
Over the years, before the 'touring years' the band went through a number of incarnations, involving a round-robin of musicians. Amongst those that have joined at some time or other, and whom we'd like to thank for helping us grow musically and furthering our dream, include: John Sorrell (guitar, vocals); Irv (drums); Leanna Grossman (fiddle); Smokey Smerken (guitar, banjo); Guido Tenaglia (guitar); Bill Kamps (banjo); Jenny Branch (vocals); Amy Blackburn (fiddle); Dr. Dale Fanney (pedal steel); David A. Thomas (dad, and fiddle). Some that have never really left the band, but who have a greater freedom from the requirements of rehearsal and gig attendance, include: Steve Senn (trucker, guitar and vocals); and Bob Will (guitar, mandolin, vocals). A few sub-groupings of the Vigilante Band broke out over the years when we thought we were bored with one another, and these include "Toe Jam Grass Band (Denby, Barry and Bob) and the more popular "Uncle Dave's Band" with protagonist DT, and Bub, and which often featured members of Toe Jam (who couldn't otherwise hold down any regular paying gigs).
There are a number of important local Socorro-ites with whom we love to play, but whom we can't always get motivated to do so. These luminaries include: Bob Eveleth (guitar, vocals, mandolin); and John 'merfin' Murfin (fiddle). And, over the years we have centered-in upon our home-away-from-home, the inimitable Capitol Bar (the 'Cap'), in lovely downtown Socorro, on the Plaza, where to be the house band is truly an honor we alone have, and cherish.
There is a part of our music that has always given us reason to continue, and whom over the years has found nothing better to do: Our ever constant, extended 'band family'. You continue to support us by dancing, laughing with (at) us and our old jokes, buying our T-shirts, and toasting us with Cuervo Gold at our annual birthday bash at the Cap. You know who you are. It seems the more time passes, the more we hold on to this thing; perhaps because mostly to have been a 'cover band' for this long, with the same song list is so hilarious. Twenty-two years, and going. Here's to all of you from all of us - after all, its your party too.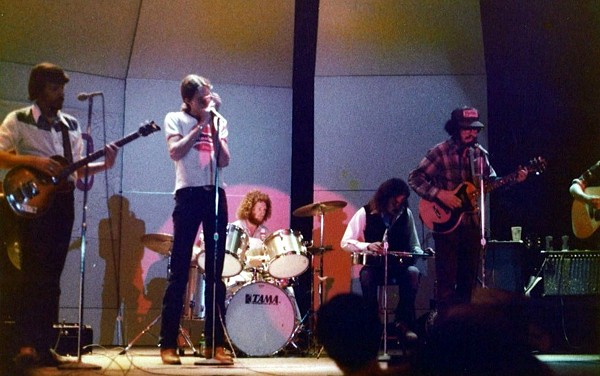 The "Bong Show" at the Tech Tin Can (1979?!?)
Courtesy Veronica Da Costa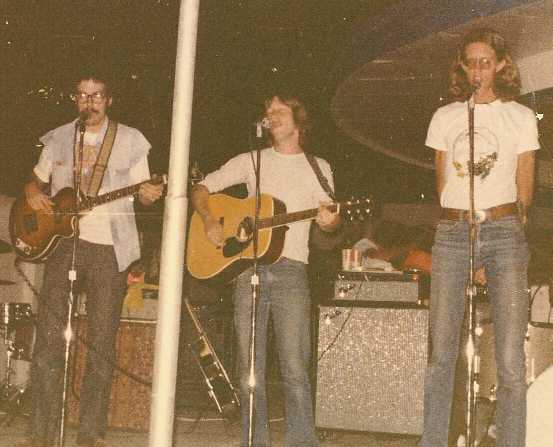 The "Pool Gig" : DT, Denby, Bo circa 1977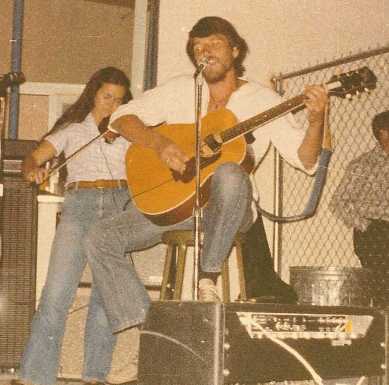 The "Pool Gig" : Leanna Grossman, Bill Giebitz circa 1977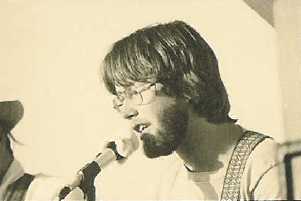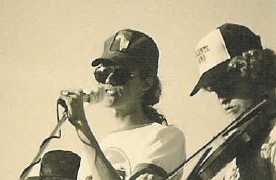 Denby, Bo and Barry at the Air Show Gig (1980)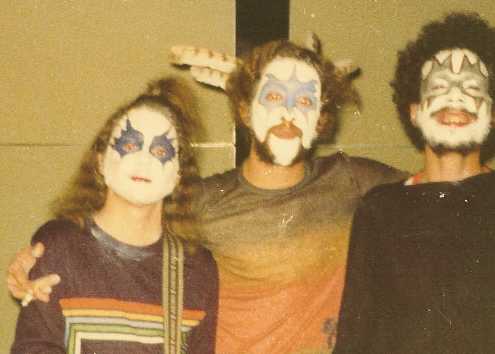 Ed Brandt, John Sorrell, Dave Thomas at the "Kiss Gig" (1977)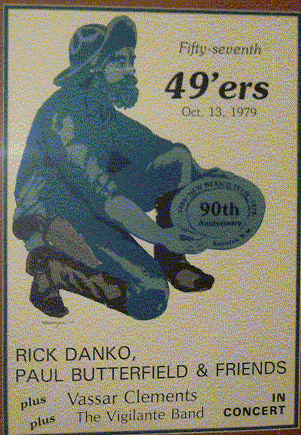 The Vigilante Band's Biggest Concert, ever.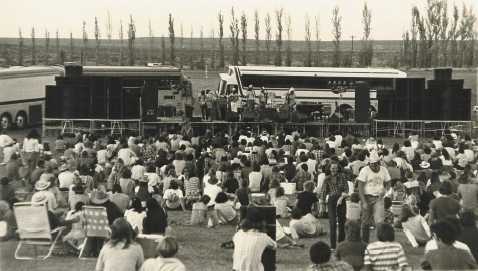 Opening for Rick Danko/Paul Butterfield/Vassar Clements (1979)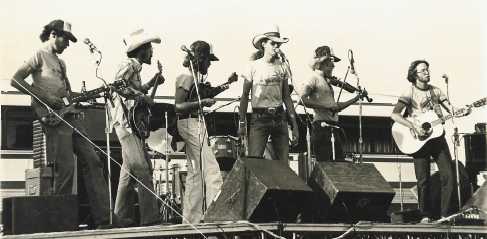 Danko+ 1979: Bill, DT, Randy, Bo, Barry, Denby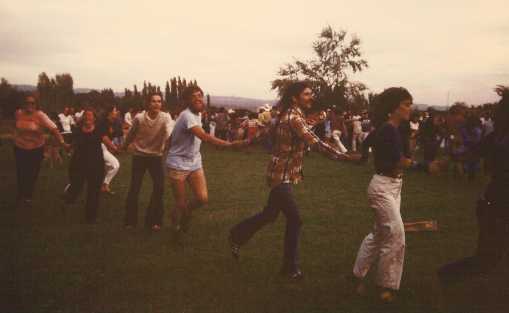 Danko+ 1979: Will the Circle Be Unbroken...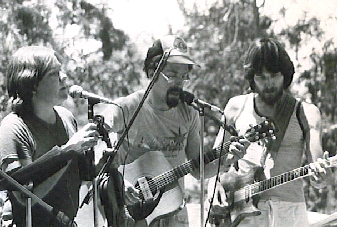 L-R Amy Blackburn, Dave Thomas, Bill Giebitz (late 70's/ early 80's)
On the Plaza in Socorro, NM: DT, Randy, Bo, Barry, and Denby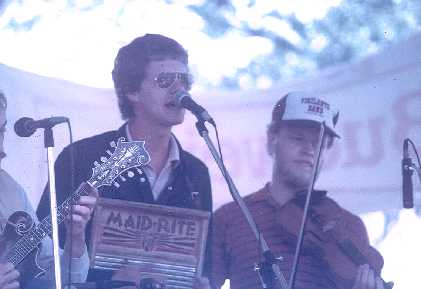 Bo and his Washboard, Barry & Fiddle, Socorro's Plaza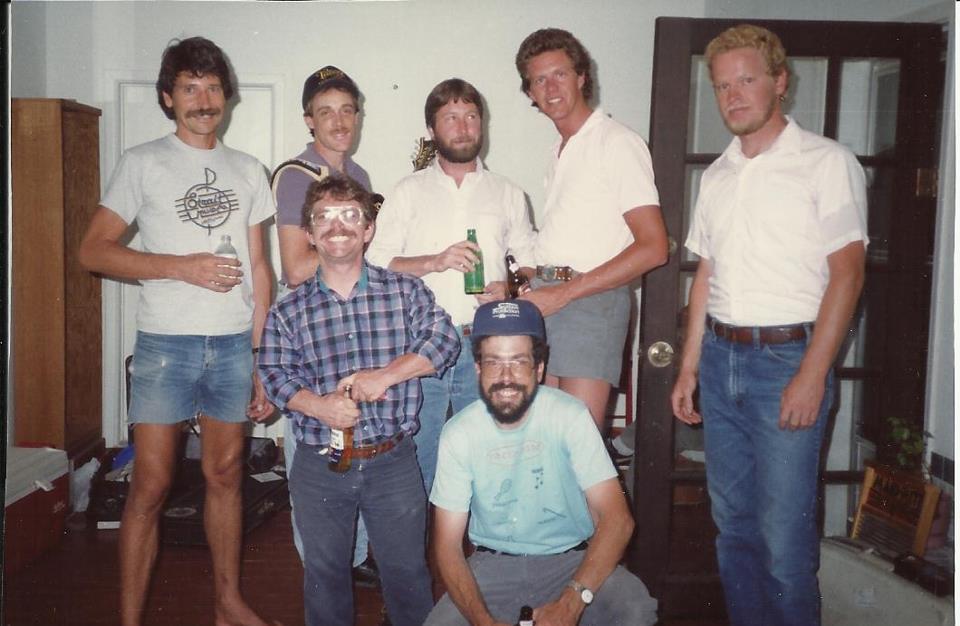 The Band, Back in The Day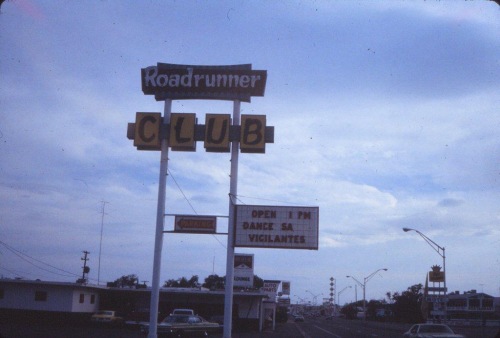 Before the Bodega, there was The Roadrunner!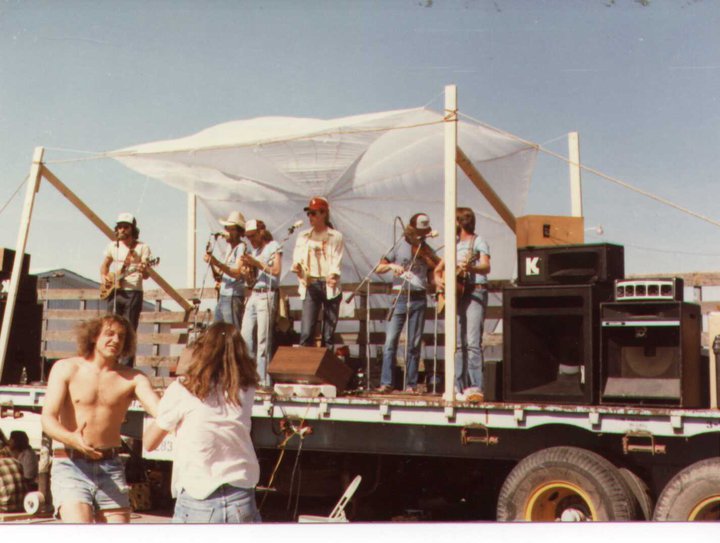 Rex cuts the rug at the Air Show (~1980)
Vigilantes Emeritus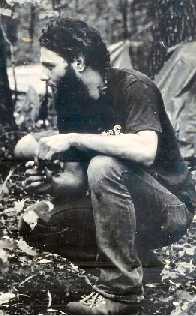 Daniel "Smokey" Smerken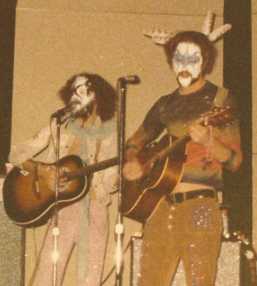 Guido Tenaglia, John Sorrell at the Kiss Gig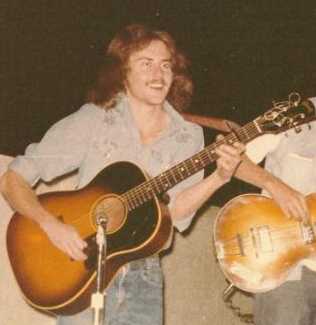 This 1977 photo above shows Vigilante Band founder Ed Brandt, who died of hereditary heart problems in 1978. Ed gave the band its slogan "Loose to the Last Minute."