DUE TO CIRCUMSTANCES BEYOND OUR CONTROL,
THE VIGILANTE BAND WILL NO LONGER BE PERFORMING AT LOS OJOS BAR IN JEMEZ SPRINGS, NM.


WE WISH LOS OJOS THE BEST!

WE HOPE YOU'LL JOIN US AT THE CAPITOL BAR AT 49ER'S ON
OCTOBER 13th, 14th and 15th, 2016!!!


WE SURVIVED SUMMER TOUR 2013 - LOS OJOS BAR, JEMEZ SPRINGS NM
NEW PICS - THANKS to Orchards, Mitchells and More!!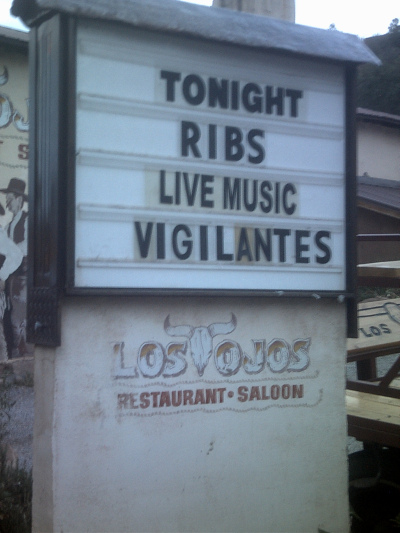 Whoopee, we made the Marquee!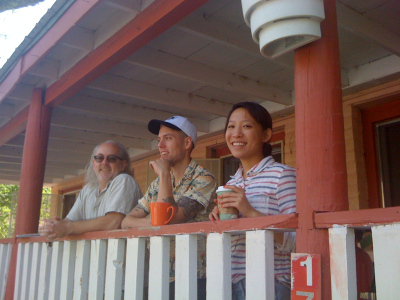 Bruce, with son Will and new groupie-in-training Stephanie!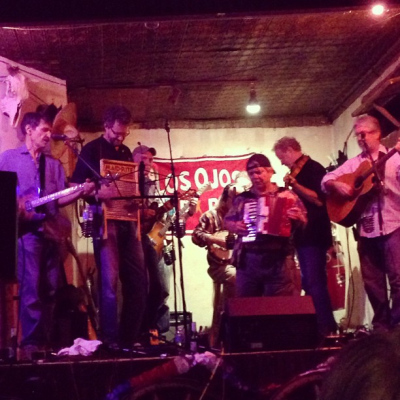 The Band, on a very small stage.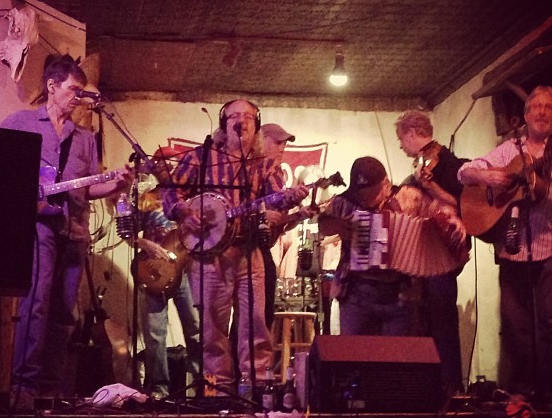 Boppin' Banjo Action!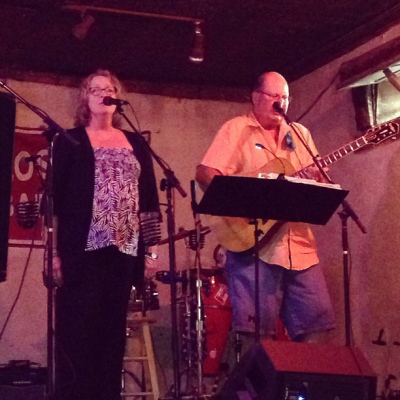 The Orchards opened up all three nights.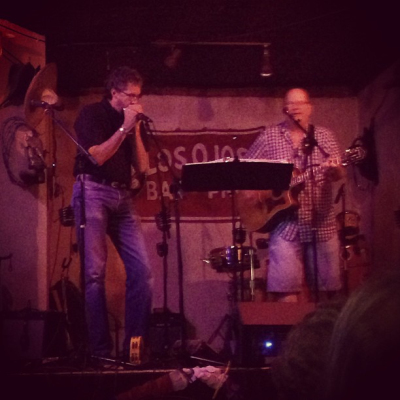 Bo and Mark tearin' it up.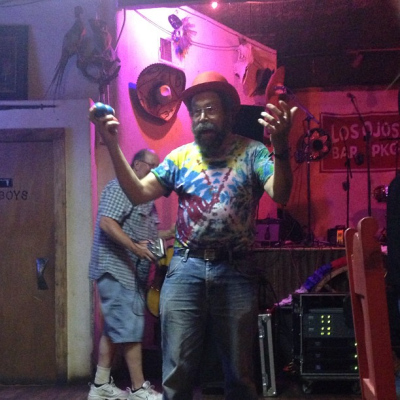 The Baffling Bouncing Blue Balls of Benzini!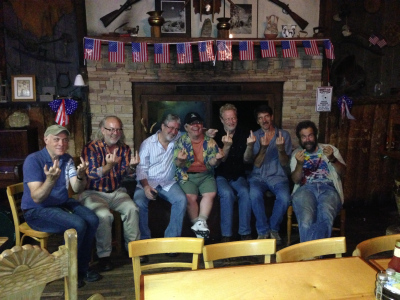 Sending everyone "Best Wishes" until next year!

NEW PICS - THANKS to Bill & Veronica Stevenson!!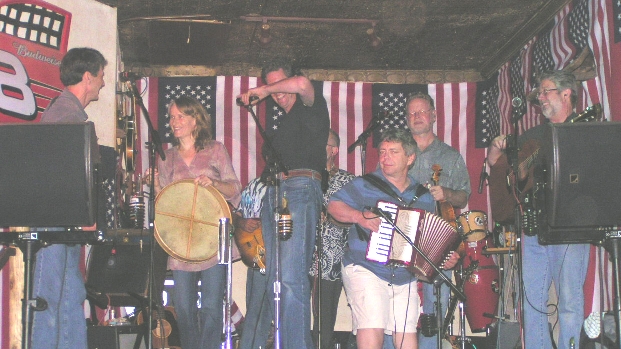 Jeannie on the Bodhran!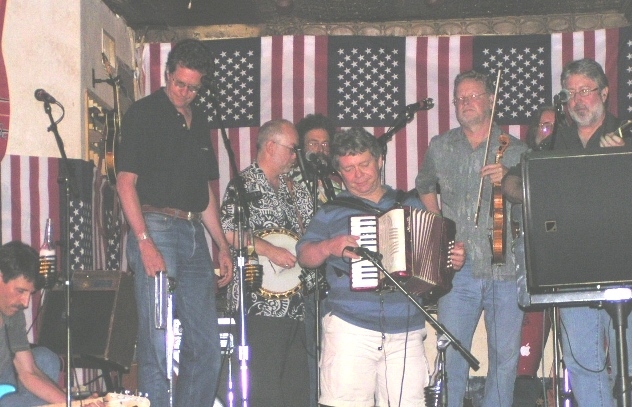 Tending those delicate technical details!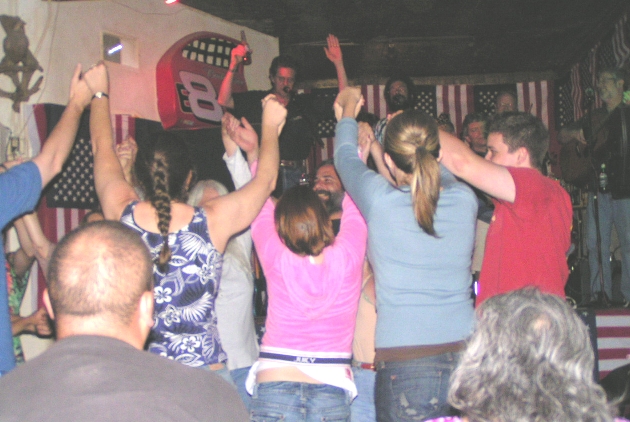 Will the Circle Be Unbroken...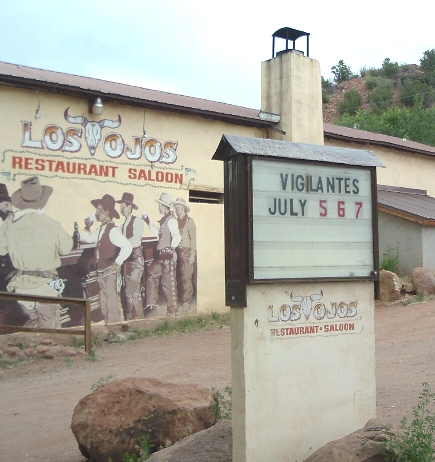 Thanks to Los Ojos Restaurant/Saloon for their Classy Support!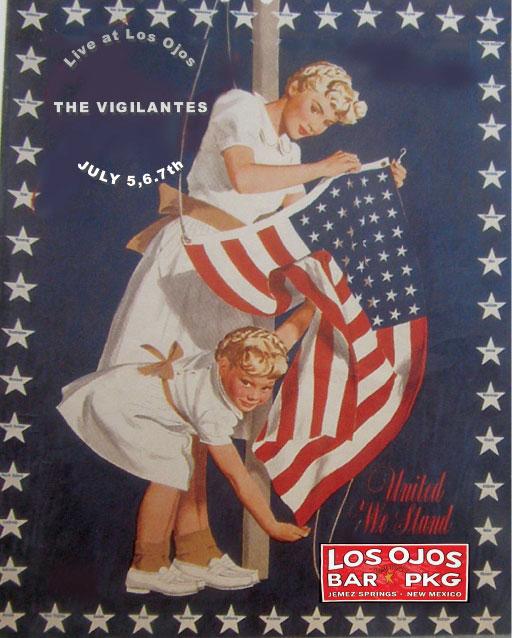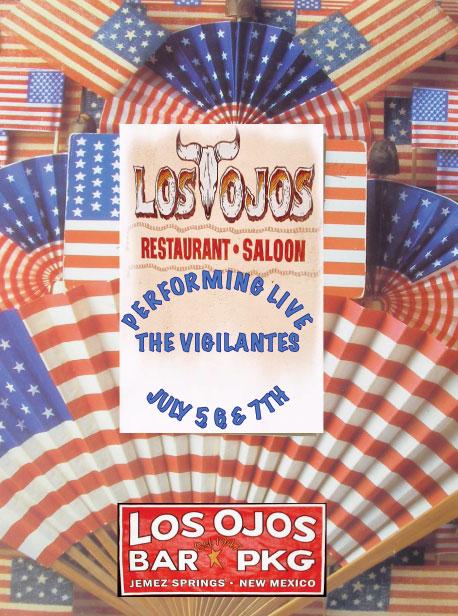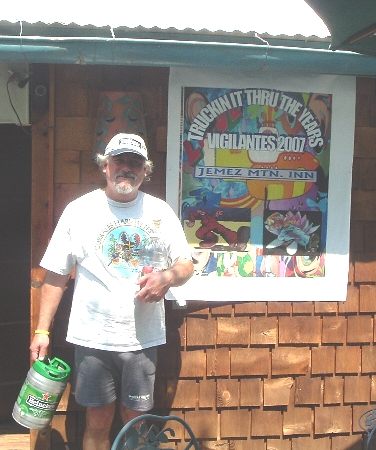 Thanks to Paul Rael and crew at the Jemez Mountain Inn for their great hospitality!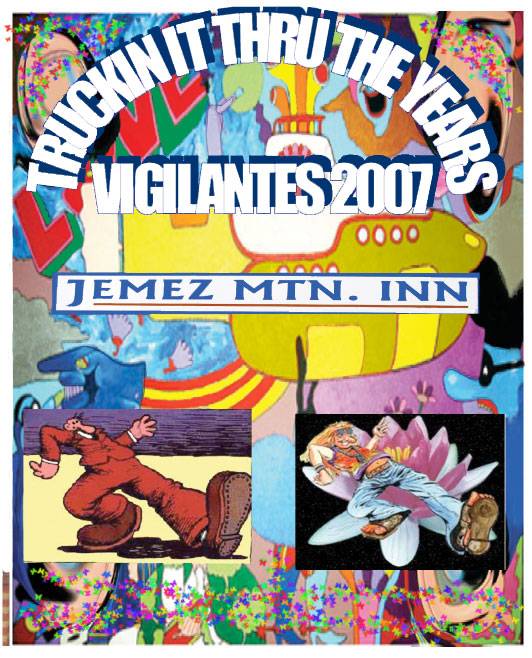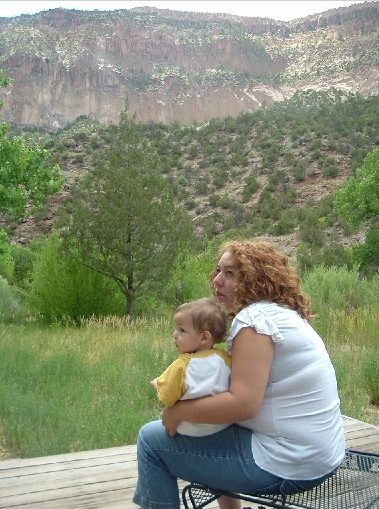 This is (one of the reasons) why we love the Jemez!

Bruce 'n' Suzie enjoying a brew and a jam at Mark'n'Becky's Annual Potluck!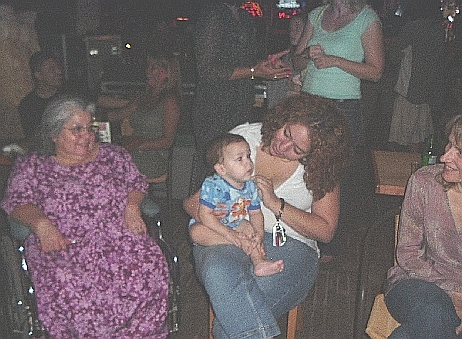 Aiden's First Vigilante Gig!

MORE PICTURES NEEDED! Send your snaps to DT at nmsrdaveATswcp.com (change the AT to @ and all will be well).
Bill & Veronica, this means YOU!

A Previous Year's Aftermath: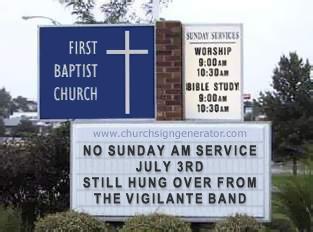 On I-25 heading North to Santa Fe, take exit 242 (Bernalillo), and go West through Bernalillo, and onto US 550 (NM-165, formerly "Hwy 44"). After 23 miles, turn right onto State Road 4 at San Ysidro. Go North on NM-4 for about 30 minutes, and you'll find Los Ojos.

Los Ojos Restaurant/Saloon, Jemez Springs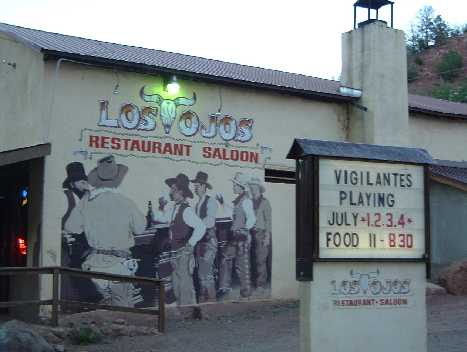 2005 Pix - courtesy Bill & Veronica (da Costa) Stevenson!!
Lauren & Jeanne add a touch of Style to "Jolene."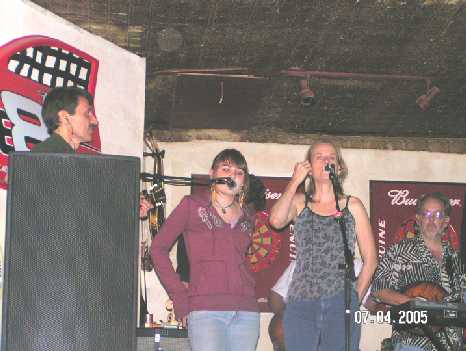 Ted, Sandy, Audra, and other Dancers Get 'er Done!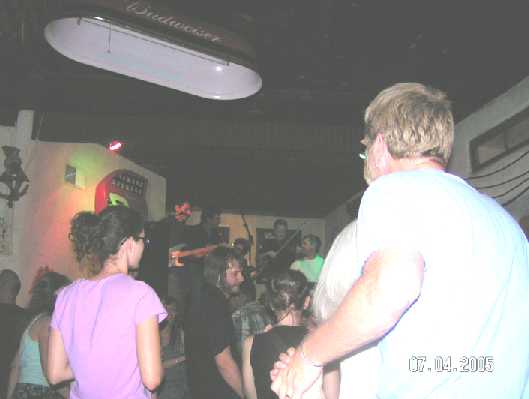 PIX from the 2004 TOUR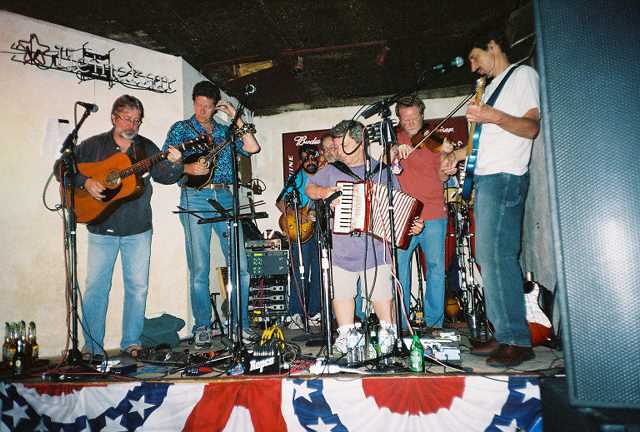 Rustic Decor, Plenty of Room for Dancing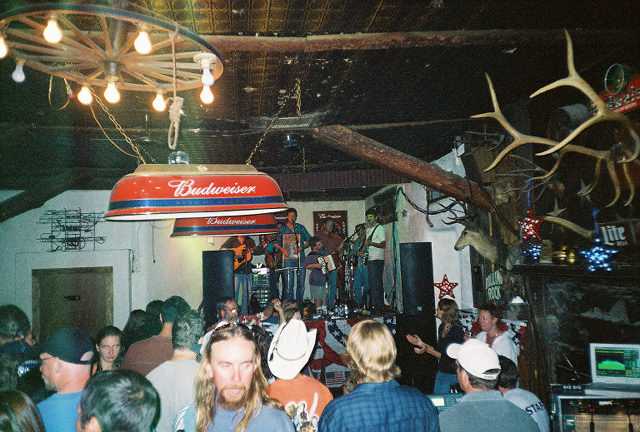 Jemez Springs RESTAURANTS and LODGING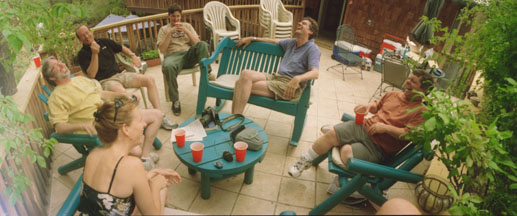 "The Porch" (Jemez Mountain Inn), photo copyright 2005 Wm. Giebitz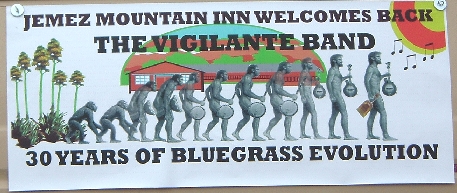 This cool poster was made last year by the Jemez Mountain Inn just for us!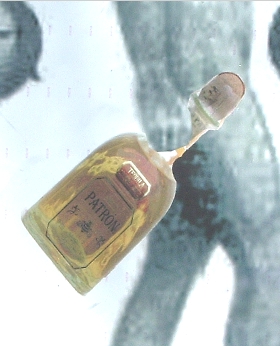 This Detail shows the Culmination of 30 Years of Evolution!