The Apology: The Story of the Sacred Scroll
In the wee hours of Sunday, July 4, 2004, several members of the Vigilante Band were attempting to have one of their semi-annual practice sessions on the porch of the Jemez Mountain Inn.
This practice was rudely interrupted by the noisy, intemperate remarks of the following individuals, a.k.a. "The Gang of Five":
Unable to practice on their beloved porch, band members had to act unilaterally, moving downstairs to the lower Porch. (Which was quite a bit warmer, actually - thanks!)
Let it be known that the Gang of Five has issued a formal Apology.
This scroll, carbon-dated at 14,000 BP, appears below. Here, the Scroll appears in all its Two-Ply Grandeur. Sadly, only One Ply has survived to the Present Day. All the more ironic, in that the Scroll was made from the very last roll of scroll paper in the Jemez Mountain Inn!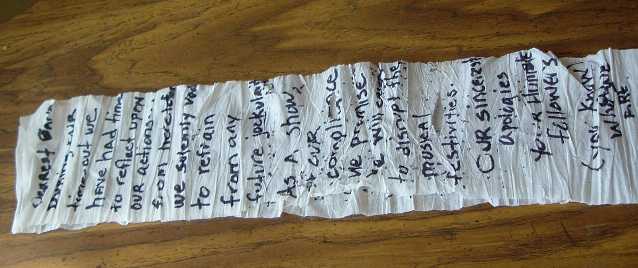 The Scroll, after Preparation by Archaeological Experts, prior to Framing.

Translation of the Scroll of Apology:
"Dearest Band: During our time out we have had time to reflect upon our actions... from heretofor we solemnly vow to refrain from any future jockularity. As a show of our compliance, we promise we will cease to disrupt the musical festivities. Our sincerest apologies, your Humble Followers (you know who we are)"
Presentation of the Scroll to the Gang of Five, Saturday, July 2nd, 2005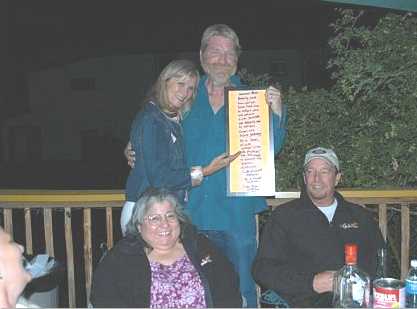 Back where it all Started: The Porch